Following the devastating news of Russia's attack on Ukraine, many people, including Baltic musicians, show their support and invite others to stay informed from verified sources and help in any way possible - whether it would be a good thought and flag on a profile photo, donation to organisations in Ukraine, hosting people, who leave the country escaping war, or listening to Ukranian music. #StandWithUkraine now!
Read here on how you can help Ukraine. Donate to - Save Life UA , Army SOS, Razom for UA, United help Ukraine, Sunwflower of Peace, Revived soldiers UA, Voices of children. Baltic organisations supporting UA - Blue Yellow in LT, Ziedot.lv in LV, Ukrain heaks in EE. Latvians are invited to fill out the form, offering help to war refugees.
BOBE team has put together a playlist featuring Ukrainian musicians and bands. Press play, send all your good thoughts to Ukrainian nation and help however you can.
This morning, Ukrainian singer Ivan Dorn posted a message to his followers, especially addressing people in Russia, knowing that the information circling in Russia paints a different picture from the reality.
Today my country woke up from explosions. Today, the governmental authorities of the Russian Federation started a full-scale war against my country. And now I am appealing to the Russians, for whom my word, I hope, are still meaningful. I urge you to stop this catastrophe. I call on you not to participate in this murderous war. We do not need anyone, we want to decide our fates by ourselves. I also call upon my Russian colleagues, who have their own audience. Please tell them, that we don't need anyone. Convey the message, that Ukraine is an independent, sovereign state. Please, let's stop this disaster together. Do not be silent. My dearly beloved Ukraine, I'm with you.
#StandWithUkraine
Several artists in Baltics have shown their support. On February 25 at 6PM outside of Kongresu nams in Riga, Latvian musicians will come together in a concert "Freedom to Ukraine" to show support to Ukrainians. Latvian guitarist Mārcis Auziņš posted a heartfelt instrumental cover of "Imagine". Latvian folk band Tautumeitas sings a Ukrainian song, stating that the country has its own culture, language, people and borders, which should be respected.
Dagamba shared their performance of Ukranian song Без бою by Okean Elzy band.
Lithuanians The Roop stand with Ukraine and are saddened that what once were a painful experience and memories for Baltics, is still the reality in nowadays world, which the neighbour country is experiencing.
While Estonia is celebrating independence day on February 24th, Ukraine is fighting and protecting its freedom. Estonian artist NOËP shares on his Instagram story, that donating is a way to be helpful at the moment. Read here, where and how you can donate!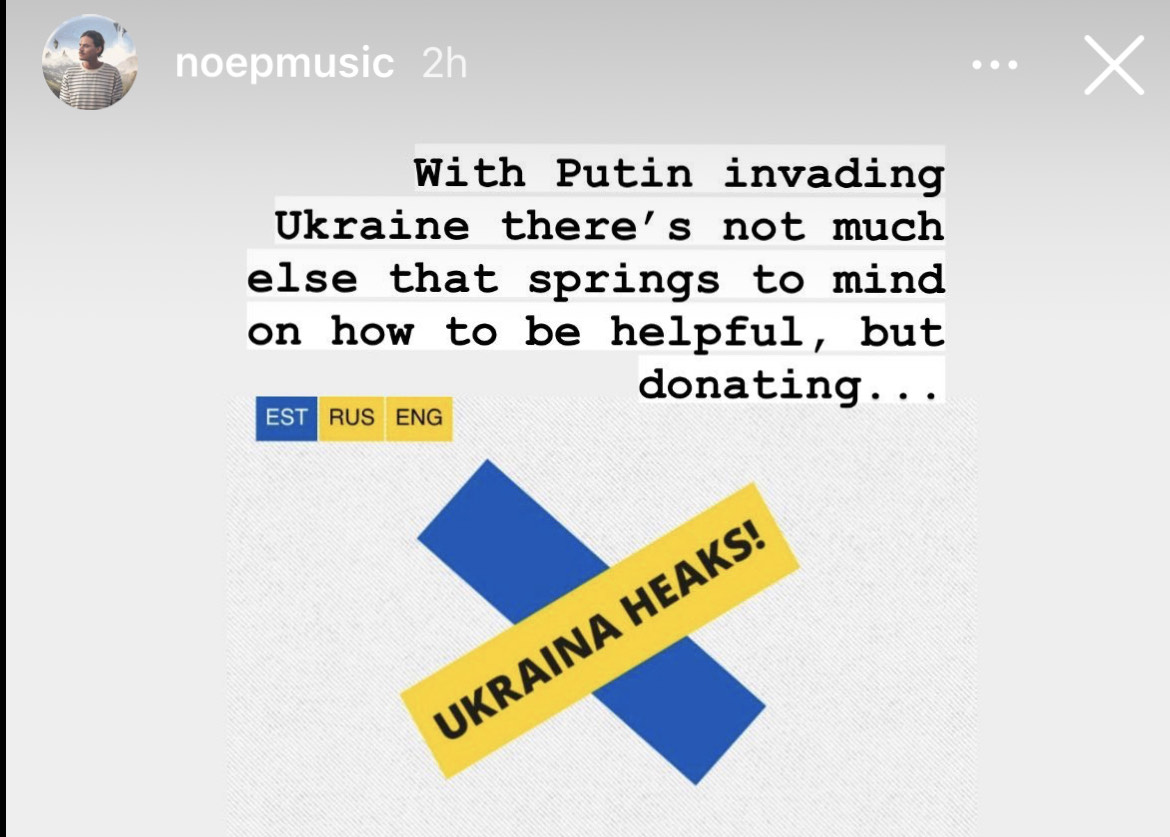 We stand with Ukraine!