Ed Sheeran officially returns with his new single 'Bad Habits' , which is joined by the Dave Meyers-directed official video.
Spending the last few years out of the spotlight following his record-breaking two-year Divide tour and the arrival of his first daughter, Ed Sheeran marks his official return with the euphoric 'Bad Habits'.
Sheeran is an artist who motors on nonconformity, with today's release landing as something unexpected yet wholly his; a testament to a forward-thinking artist who continues to push his art into new dimensions. Deploying an up-tempo, summery sonic alongside his treasured guitar, and a track that channels escapist energy, Ed co-wrote and co-produced 'Bad Habits' with long-time collaborators, Johnny McDaid ('Shape of You') and FRED (No.6 Collaborations Project).
In the accompanying official video – directed by Dave Meyers(Billie Eilish, Kendrick Lamar) – we see Ed as we've never seen him before as he depicts an alter-ego vampire character. Trading his distinct ginger hair for bleached white and his teeth for fangs, the dark-humour narrative serves as a metaphor for 'bad habits' as Ed embarks on a wild night out alongside his crew of ghouls before morphing back to his real self the next morning, ginger hair intact, as the sun rises over him.
Ed Sheeran says – "Feels great to be back with my new single. I wanted the video for Bad Habits to play on the nature of habits in a fantastical way so I decided on vampires. It was mega fun getting into character except for the heights (that wasn't so fun). Enjoy 'Bad Habits'!"
'Bad Habits' is Sheeran's first official release since 2019's UK No.1, 'No.6 Collaborations Project'. A long-play side project that ran independently of his album sequence, it saw Ed join forces with a number of his favourite music artists – a staggering 22 of them, in fact – including Cardi B, Bruno Mars, Camila Cabello, Eminemand Travis Scott. In just a matter of weeks, the project reaped three UK No.1 singles in 'I Don't Care' with Justin Bieber, 'Beautiful People' feat. Khalid and 'Take Me Back To London' feat. Stormzy.
Last month, Ed topped the bill of Radio 1's Big Weekend with an exclusive full band performance, filmed at Snape Maltings, Suffolk. During the same month, he was also unveiled as the new shirt sponsor for the men's and women's first teams of his beloved Ipswich Town Football Club.
Ed Sheeran is currently recording his new album.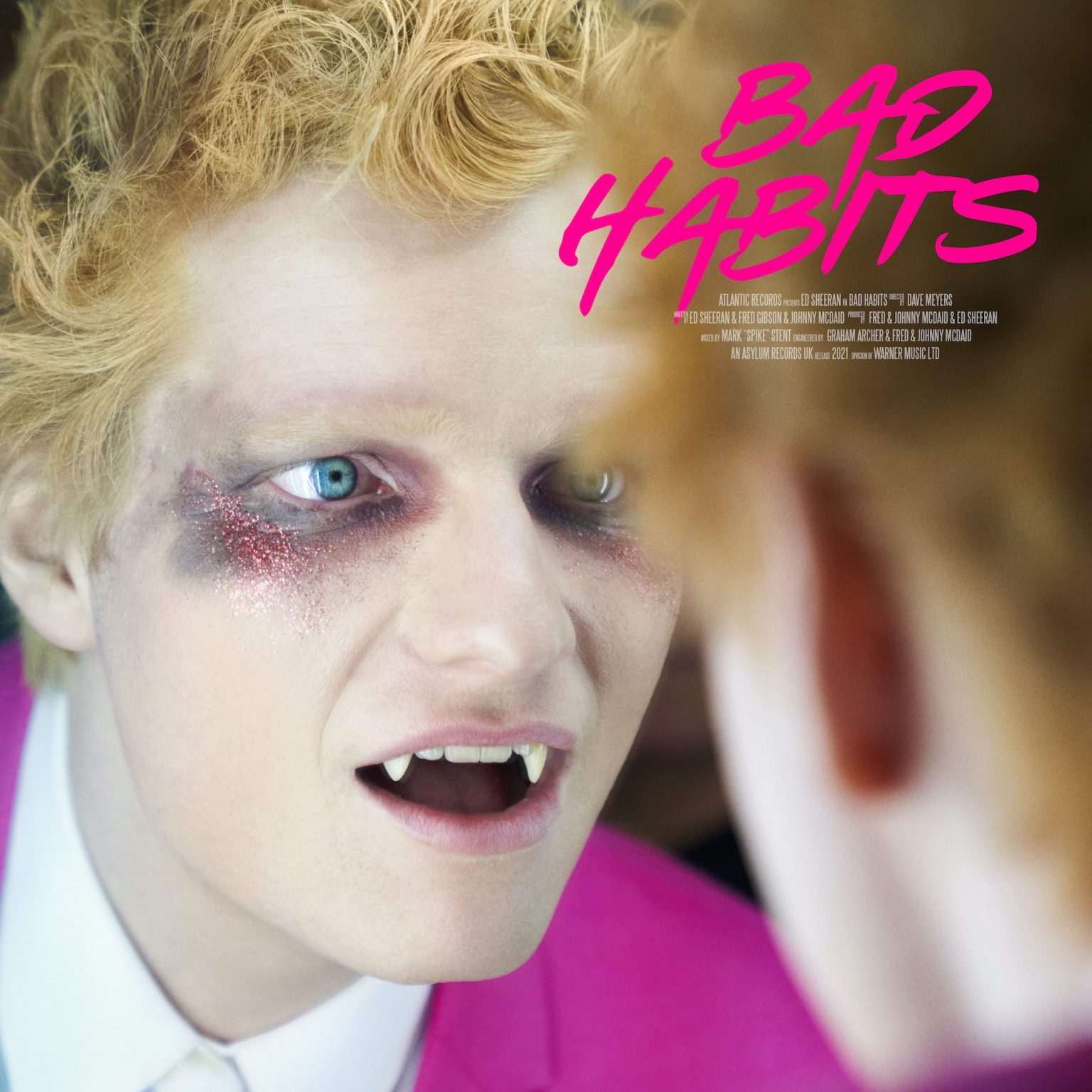 Ed Sheeran is an era-defining artist. Through his fusion of thought-provoking songwriting, universal pop and multi-genre influence, his rich tapestry is not only perfectly suited to his audience but it's something that transcends generations.
Since surfacing on the UK circuit in 2010 with his 'No.5 Collaborations Project' – an eight-track EP featuring his favourite grime artists of the time – the Suffolk-raised recording artist has resonated with fans across the world through his peerless songcraft and versatility. And now, with four UK No.1 albums to his name – '+' (2011), 'x' (2014), '÷' (2017) and 'No.6 Collaborations Project' (2019) – he has sold over 45 million albums and 150 million singles across the world.
Most notably, Ed's 2017 blockbuster release, '÷' (Divide), saw Ed reign supreme as one of the most in-demand pop stars on the planet – a feat he has continued to sustain ever since. Crowned as the fastest-selling album, ever, by a male artist in the UK, the chart-shattering album housed a swarm of singles including 'Castle on the Hill', 'Perfect' and 'Shape of You', with the latter becoming Spotify's most-streamed song of the last decade.
But it's not just his recorded music that's seen the former Glastonbury headliner become one of the sought-after artists of the 21st century, either. Possessing a mystical ability to turn 90,000 capacity venues into the pub back-rooms that he first started playing in, Ed made history in 2015 after becoming the first-ever artist to play Wembley Stadium, solo – without a band and with just his guitar and loop pedal – over three, consecutive sold out nights. Move forward to the summer of 2019 and Ed would re-enter history books after the completion of his mammoth two-year Divide tour, which would officially become the most-attended tour of all time after it culminated with special homecoming shows in Ipswich, Suffolk.
Ed Sheeran – who was awarded an MBE for his services to music and charity in 2017 – is the proud recipient of 1 x IFPI Award (best-selling global artist of 2017); 4 x Grammys; 4 x Ivor Novello's; 6 x BRIT Awards (including two consecutive wins for 'Global Success' in 2018 and 2019); 7 x Billboard Awards + more.
At the end of 2019, Sheeran was presented with the Official Chart Company's first-ever 'No.1 Artist of the Decade' award following a host of accomplishments in his native UK including the most No.1's across the UK's Official Singles and Albums chart from the years 2010-2019.