---
'Latvian New Music Days 2021′ is taking place for the 10th time this year. Tune in to hear special concerts from Riga, Tallin & Vilnius concert halls!
---
In 2019 the Composers Unions of all three Baltic States joined together in a Baltic Contemporary Music Network that aims to cooperate between the states and promote the Baltic contemporary music abroad. In April and May 2021, the First Baltic Music Days will take place in Tallinn and Tartu.
"Latvian New Music Days 2021" festival (LV – "Latvijas Jaunās Mūzikas Dienas 2021"), created by the Latvian Composers' Union, is taking place for the 10th time. This year from March 1 – 6, as well as April 17 & 29. These will be very special online concerts from Riga, Tallinn and Vilnius concert halls.
Concert schedule:
The core of the festival consists of a number of concert programs centered on a 20th century masterpiece, a masterpiece that has changed the path of music development – Steve Reich's "Piano Phase", György Ligeti's "Second String Quartet" & Gérard Grisey's "Vortex Temporum". These outstanding masterpieces have been sources of inspiration for new works by Latvian composers who contextualize, refer to and meditate on the poetic and technological aspects of these works. In their opinion, high-quality music has excellent conductivity, which provides energy transfer. From piece to piece, ideas and stories can travel in at least two directions!
It is said that contemporary composers are constantly breathing the great masters of the past.
The festival "Latvian New Music Days" invites us to look at this assumption from another perspective – 'contemporary music' means not only the connection of music with its time, but also the endless interaction – wired connections – between the builders of the sound and generations of sound creators. This year's festival concerts are called foot-concerts (LV – "kājkoncerti").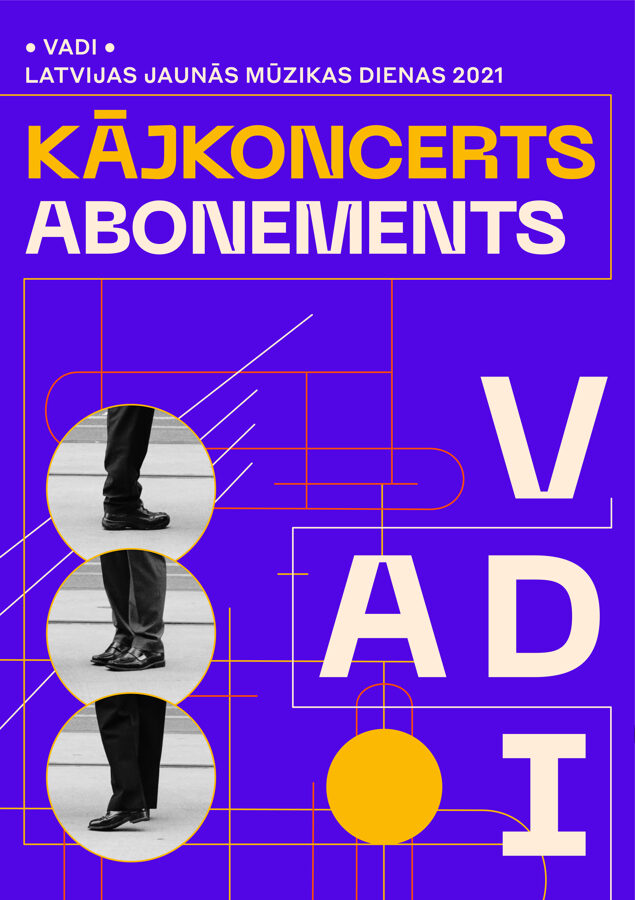 As it is possible to watch the live broadcast anywhere, the composers themselves have recommended their concert listening places. In addition to the tickets, the festival also offers two types of foot-concert subscriptions, which you can buy for yourself – for "two feet" or for two friends – for "six feet". TICKETS
---
If you are interested in ENSEMBLE U Online concert from Estonia on March 5th, for tickets go HERE. The concert starts at 7:00 PM.
Ensemble U: is currently the most active and renowned contemporary music ensemble in Estonia. It has gained recognition for its ability to perform even the most demanding works without conductor, openness for bold experimental ideas and sensitivity for sound.
If you are interested in 20 FINGERS DUO concert in Lithuania on March 5, for tickets go HERE. Concert starts ar 8:00 PM.
Twenty Fingers Duo is a duet of contemporary and modern music artists Lora Kmieliauskaite (violin) and Arnas Kmieliauskas (cello), featuring vivid and multifaceted performances of intense sound that change the sound and space, re-discovering the authenticity, pause and silence of instrumental timbre. Twenty Fingers Duo is recognized for its intense and engaging performances and unique sound, and has earned the name of an ambitious and curious ensemble for its ongoing collaborations, exploring performativity in its performances and promoting contemporary Lithuanian music.
For more information go HERE & for the festival "Latvian New Music Days 2021" full concert subscription go HERE.
Composers and musicians offer their suggestions for where to enjoy the concerts:
Georgs Pelēcis – for his two fairy tales piano "Echo of Steve Reich's Piano Phase" (LV – "Stīva Reiha Piano Phase Atbalss") recommends listening to the chamber music genre by the fireplace, with candles and a glass of wine.
Jēkabs Nīmanis – recommends listening to his composition "Rearticulated Transformation Game" (LV – "Reartikulētā Transformāciju Spēle") on the sports field, catching the excitement and spirit of the game.
Anna Ķirse – recommends listening to her composition "Mundus Invisibilis" underground to be closer to the mushroom network, from which the composer was inspired for her work. If this is not possible, the composition will also fit into a walk in the woods or at home.
Oskars Herliņš – encourages to listen to his work "Block Buster" by splitting firewood, which inspired him to create the composition.
Madara Pētersone – recommends going for a walk in the fresh air before her composition, and then listening to the concert indoors, in the dust and with relatives who are not tired during this pandemic.
Make sure to tune into one or more of the concerts in the festival, you won't regret it!