---
JUNE 7
---
On Monday, June 7, Baltasis Kiras will appear on the terrace of the LOFTAS Art Factory!
Baltasis Kiras is a well-known, indie / folk / rock band from Vilnius, that first came together as a group of good friends. Their music is created through thinking about important people and phenomena. See you there! TICKETS
---
During such – open mic evenings, many names have now become well- known comedians – Vaidotas Šižinis, Mantas Bartuševičius, Viktoras Balykov, Airidas Jankus, Henry Match, Vanilla Killa B, Mantas Grimalis and several others! Come discover new talent & have a laugh! TICKETS
For access to event you will be required to show your Covid Passport.
---
JUNE 8
---
We don't choose to be born.
you choose to create.
Love is a feeling.
feelings have a function.
Past tense is fiction.
but it is your reality.
Memory creates man.
and you destroy the memory.
Fiction destroys reality.
and you choose to build the future.
We are dying.
but we choose to live.
This is the Lithuanian Academy of Music and Theater, theater art – acting students' final performance "AUTUMN", based on Ingman Bergman's play "Autumn Sonata". Come see what the new talents have created! TICKETS
---
A theatrical concert for the whole family, come enjoy its premiere! TICKETS
---
MUSIC EVENT: 

GIEDRĖ | LIVE

, from 8:00 PM, Vilnius
Like all musicians, GIEDRĖ missed concerts and audiences very deeply. So we anticipate a lot of sensitive moments together, when again we finally meet through non-mobile apps and listen to the powerful and high quality live sound. Come feel the music! TICKETS
---
JUNE 9
---
The author and performer of the new generation of music Lukas Pilkauskas started his musical journey by playing and mixing the songs of other performers in "mashup" format on the SoundCloud platform. While sailing in indie waters, Lukas tries to serve the flavors associated with lo-fi soft rock, dream pop, dream rock and soft psychedelic music. Having decided to take a more mature step and focus all his attention on personal creation, in April the album "Sodų Dainos" was released in vinyl and cassette formats and is available on digital platforms.
Nostalgia for childhood summers spent in a small garden outside the city, a set of energetic, synthesizing sounds reminiscent of a child's electric piano, a simple rhythm machine, soft, gently romantic vocals and a generally soothing but lively sound atmosphere could be a brief description of this debut album.
The event is free, but registration is required, register HERE.
---
JUNE 11
---
Singer, violinist, composer, music producer, sound directing teacher and innovator in his field will shake the scene of his native Kaunas "Kiemelis" on June 11. See you there!
This event can only be attended with a passport. TICKETS
---
This year, the chamber ensemble of talented musicians returns to the Vilnius festival stage again with a historically important program. Come watch and enjoy! TICKETS
---
JUNE 12
---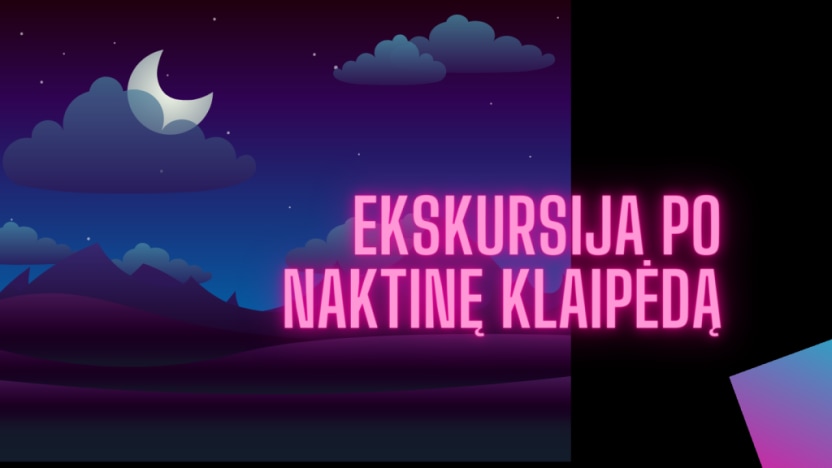 When the city is surrounded by darkness, and the streets are lit with cozy lights, Klaipeda begins telling its stories. Come learn and and find out somethings you may have never known about Klaipeda. TICKETS
---
JUNE 13
---
The beautiful city of Klaipeda, you may know it, but do you know all the history, stories and legends? A tour for children, bring your kids, learn, explore and enjoy! TICKETS